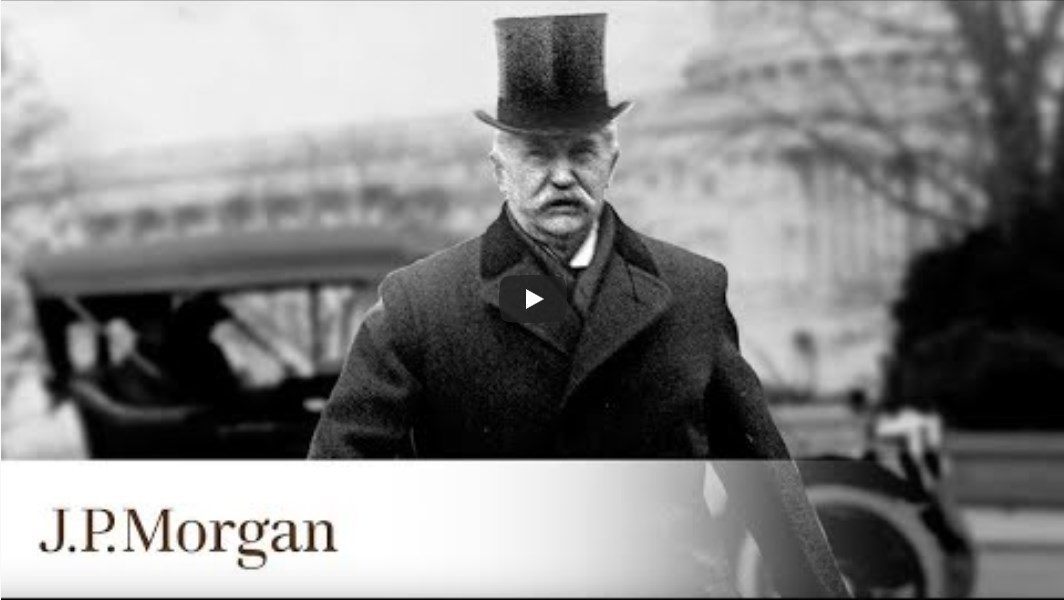 "One of the most powerful bankers of his era, J.P. (John Pierpont) Morgan (1837-1913) financed railroads and helped organize U.S. Steel, General Electric and other major corporations."
J.P. Morgan's religion Christian, white European gentile, born in the United States.
The CEO of JP Morgan Chase is Jamie Dimon was born to Greek Jewish immigrants.
True Story - JP Morgan - Finance Documentary 2019
"During the late 19th century, a period when the U.S. railroad industry experienced rapid overexpansion and heated competition (the nation's first transcontinental rail line was completed in 1869), Morgan was heavily involved in reorganizing and consolidating a number of financially troubled railroads. In the process, he gained control of significant portions of these railroads' stock and eventually controlled an estimated one-sixth of America's rail lines."
"During Morgan's era, the United States had no central bank so he used his influence to help save the nation from disaster during several economic crises. In 1895, Morgan assisted in rescuing America's gold standard when he headed a banking syndicate that loaned the federal government more than $60 million. In another instance, the financial panic of 1907, Morgan held a meeting of the country's top financiers at his New York City home and convinced them to bail out various faltering financial institutions in order to stabilize the markets." The above quotes from J.P. Morgan
| | |
| --- | --- |
| Known for | Founding J.P. Morgan & Co. Organizing the Morgan "money trust" which owned controlling interests in U.S. Steel, General Electric, International Mercantile Marine, International Harvester, AT&T, Aetna Life Insurance and 21 railroads |
| Board member of | Northern Pacific Railroad, New Haven Railroad, Pennsylvania Railroad, Pullman Palace Car Company, Western Union, New York Central Railroad, Albany & Susquehanna Railroad, Aetna, General Electric and U.S. Steel |
"Morgan died while traveling abroad on March 31, 1913, just shy of his 76th birthday."
Legacy
"His son, J. P. Morgan Jr., took over the business at his father's death, but was never as influential. As required by the 1933 Glass–Steagall Act, the "House of Morgan" became three entities: J.P. Morgan & Co., which later became Morgan Guaranty Trust; Morgan Stanley, an investment house formed by his grandson Henry Sturgis Morgan; and Morgan Grenfell in London, an overseas securities house."
Religion
"Morgan was a lifelong member of the Episcopal Church, and by 1890 was one of its most influential leaders.[51] He was a founding member of the Church Club of New York, an Episcopal private member's club in Manhattan.[52] In 1910, the General Convention of the Episcopal Church established a commission, proposed by Bishop Charles Brent, to implement a world conference of churches to address their differences in their "faith and order." Morgan was so impressed by the proposal for such a conference that he contributed $100,000 to finance the commission's work.[53]"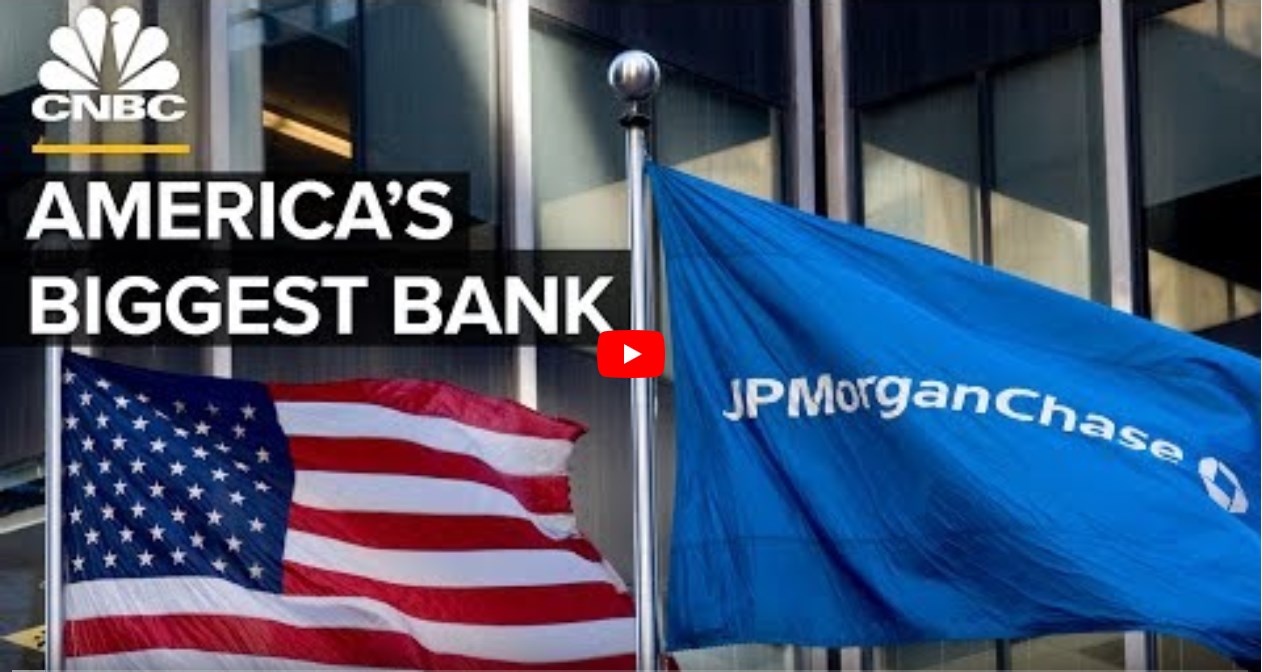 From the railroad and steel consolidations brokered by John Pierpont Morgan on Wall Street more than a century ago, to banking consolidation, the financial crisis and Jamie Dimon's leadership, J.P. Morgan Chase has been at the center of finance for more than a century. Here's the story of how
***Clarification*** Since 2004, investors in JPM stock have outperformed the bank stock index by an average of 6% return every year. That's more than 6x the return of the index yearly (13:52)
In February, J.P. Morgan Chase announced it was in growth mode, expanding its branch network to cover 93 percent of the U.S. population by the end of 2022.
The aggressive growth plans will allow it to reach 80 million more consumers, or about one-quarter of the U.S. population, versus its footprint in 2018, the New York-based bank says.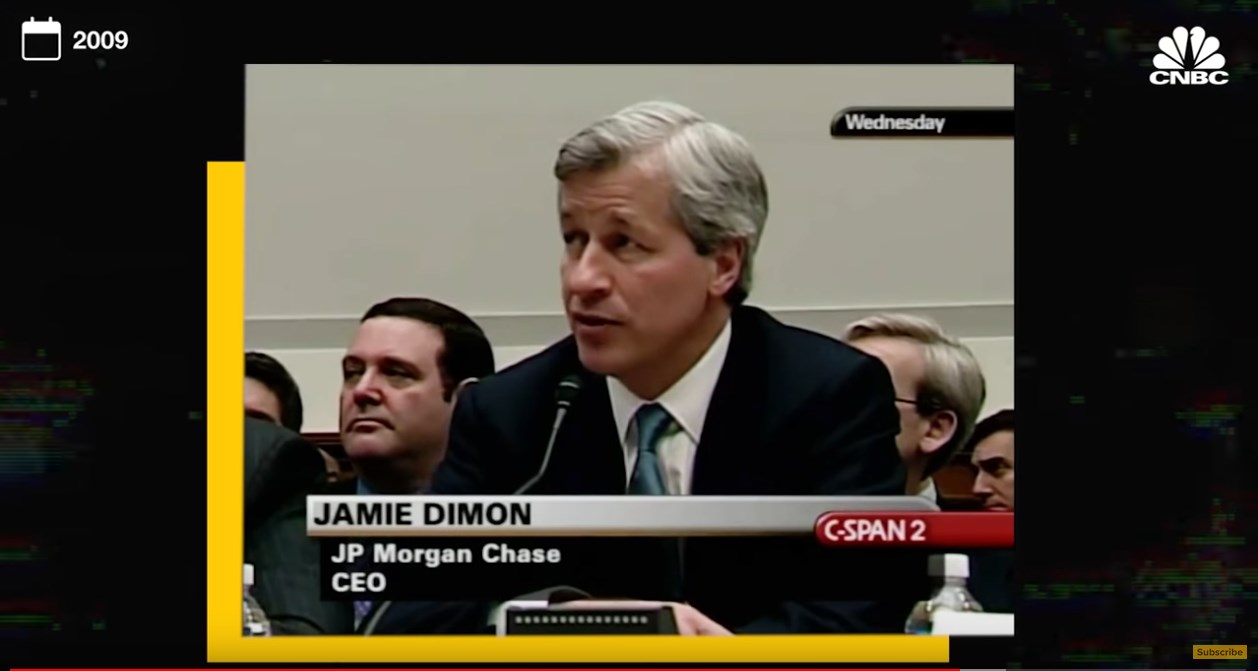 Jamie Dimon Biography, Age, JPMorgan Chase, Net worth, Wife and Donald Trump
"Dimon was born in New York City. He is one of three sons born to Greek Jewish immigrants Theodore and Themis (née Kalos) Dimon. His paternal grandfather who was a Greek immigrant changed the family name from Papademetriou to Dimon to make it sound more French."
Nathan Mayer Rothschillds married his daughter in the Morgans and the Bank of England and Banko Ambrosia of the Vatican were taken over in 1823. Bank of America and Chase Manathan etc etc are Exposed as charging the US tax payers 19% USARY. Allan.
He was an oligarch of the Rothschild money doing their dirty work to establish fractional reserve centralized banking for a third time after being kicked out twice before for bankrupting the Nation. The third time which should have never happened, was by creating a panic and a run on the banks to create a crisis and bank failures except for the chosen few banking families of the establishment. That brought us to the meeting of financiers and bankers in Jekyll Island to draft the federal reserve act which would tax our income and enslave every working class American for the rest of their lives.
I couldn't finish this one. It made him seem admirable. Hope they mentioned when he died we figured out he was a Rothschild puppet.
Revisionist HISTORY .. This video doesn't talk about a dozen of his business ventures .. One in particular General Electric and his lust to be number one in power generation in the country .. Upon his death, 90% of his wealth went back the Rothschild Bankers who he Shilled for ..
Yeah, Mr. Morgan, held back Nikolai Tesla from completing energy saving technologies.????️???️⛽?️?
JP Morgan & Nikoli Tesla free energy without poison Devil Bill was not going to have it
Give a man a gun and he can rob a bank, Give a man a bank and he can rob the world
His parents saw in him the potential of leadership and groomed him for a career in leadership. - How many of our idiotic parents groomed us for a career in the coal mines because they could not see beyond the dust to see higher. We are the products of our environments.