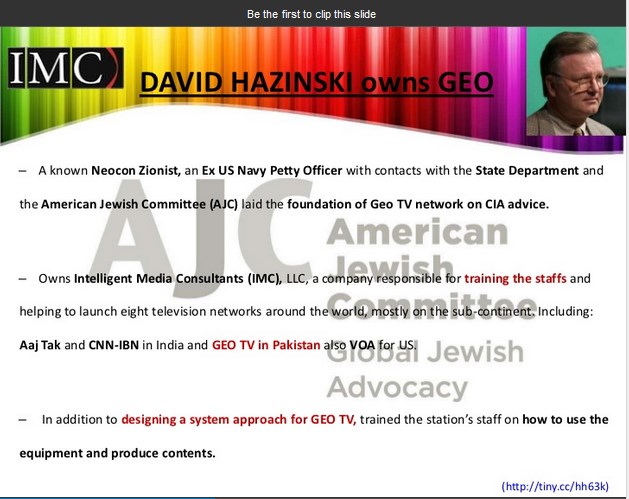 The presentation is about how GEO (No.1 Pakistani Channel for news and entertainment) is linked to Jewish Lobby. Take a look as how i have tried to expose it to the world.
http://www.slideshare.net/Zareen17/geo-is-jew-exposed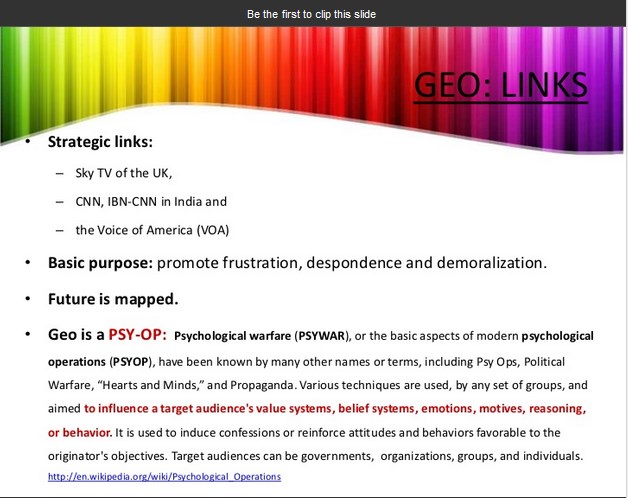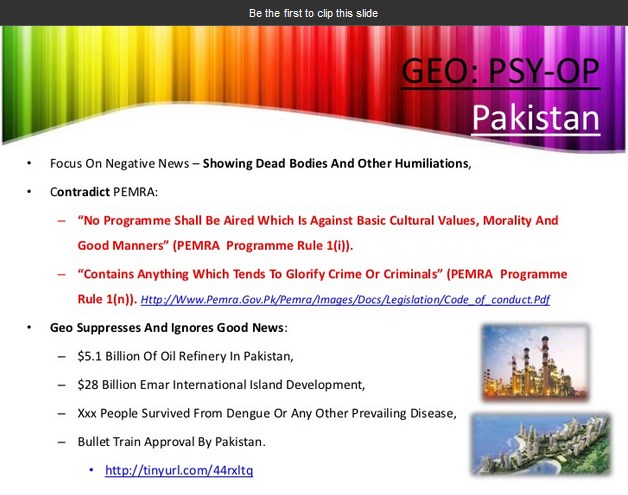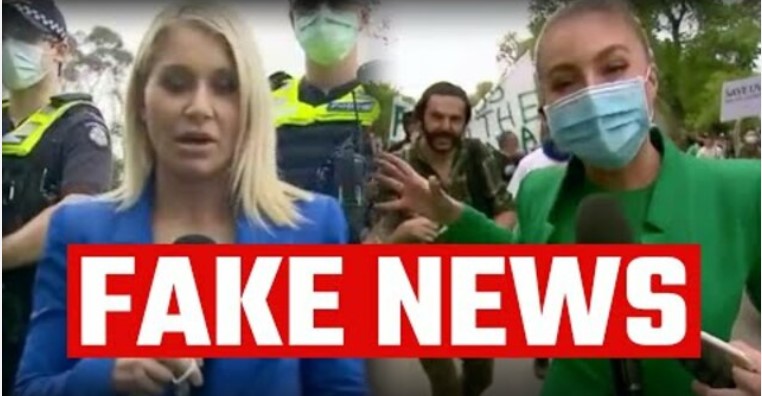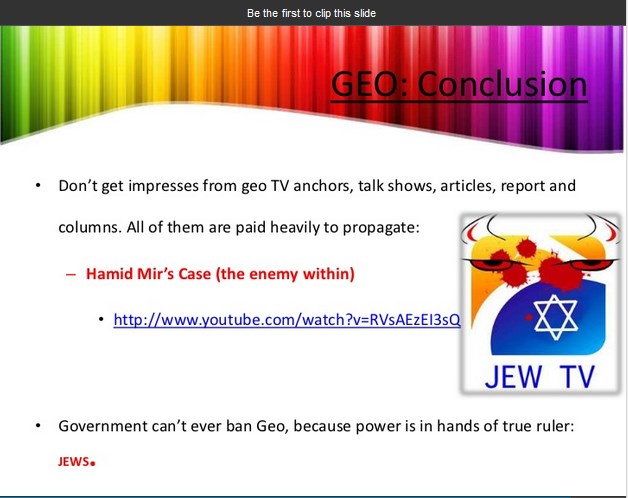 The Following information is Published on
GEO IS JEW (Exposed)- ZK
1. GEO IS JEW- EXPOSEDZAREEN KHAN - 090303003 UMT
2. Media & Mass Media• Media: – The means of communication, as radio and television newspapers, and magazines, that reach or influence people widely.• Mass media (reaching large audience): – Control Organizations of Newspapers, Electrical Telegraph, Movies Radio, Television, Internet, Mobile Devices And Video Games. http://en.wikipedia.org/wiki/Mass_media). Six Zionist Companies Own 96% of the World's Media. http://www.liveleak.com/view?i=afb_1237443978 http://www.pbs.org/wgbh/pages/frontline/shows/cool/giants/
3. Journalism• The process of communicating current issues and events to an audience in a structured way, usually in relation to a set of generally agreed social principles such as accuracy. – http://www.thenewsmanual.net/Resources/glossary.html• Person who informs public about the investigation and reporting of events, issues and trends to a broad audience in a timely fashion, practice by a person is known as a JOURNALIST. – http://en.wikipedia.org/wiki/Journalist
4. "Every news organization has only its credibility and reputation to rely on."— Tony Burman, ex-editor-in-chief of CBC News, The Globe and Mail, October 200
5. Media Ethics Responsibility and accountability Freedom ofImpartiality the press CANONS OF JOURNALISM Fair play Independence Truth and accuracy
6. Pakistan Electronic Media Regulatory Authority (PEMRA)• PEMRA has been established under PEMRA Ordinance 1 March 2002 to facilitate and regulate the private electronic media. It has mandate to improve the standards of information, education and entertainment and to enlarge the choice available to the people of Pakistan Including news, current affairs, religious knowledge, art and culture as well as science and technology. – (http://www.pemra.gov.pk/pemra/)• Censorship in Pakistani media: – Press freedom in Pakistan is limited by official censorship that restricts critical reporting and the high level of violence. • http://en.wikipedia.org/wiki/Censorship_in_Pakistan
7. GEO- 14 August 2002• Geo TV or Geo Television is a Pakistani television network, founded by Mir Shakil ur Rehman in May 2002 and owned by Independent Media Corporation.• GEO Entertainment - an entertainment channel featuring musical programs, Dramas and films, primarily in Urdu.• GEO News - an Urdu news channel.• GEO Super - a 24-hour sports channel devoted mainly to cricket, with a secondary focus on boxing, football, tennis and field hockey.• AAG TV- a channel featuring youth programming. http://en.wikipedia.org/wiki/Geo_TV
8. DAVID HAZINSKI owns GEO– A known Neocon Zionist, an Ex US Navy Petty Officer with contacts with the State Department andthe American Jewish Committee (AJC) laid the foundation of Geo TV network on CIA advice.– Owns Intelligent Media Consultants (IMC), LLC, a company responsible for training the staffs andhelping to launch eight television networks around the world, mostly on the sub-continent. Including:Aaj Tak and CNN-IBN in India and GEO TV in Pakistan also VOA for US.– In addition to designing a system approach for GEO TV, trained the station's staff on how to use theequipment and produce contents. (http://tiny.cc/hh63k)
9. GEO: LINKS• Strategic links: – Sky TV of the UK, – CNN, IBN-CNN in India and – the Voice of America (VOA)• Basic purpose: promote frustration, despondence and demoralization.• Future is mapped.• Geo is a PSY-OP: Psychological warfare (PSYWAR), or the basic aspects of modern psychological operations (PSYOP), have been known by many other names or terms, including Psy Ops, Political Warfare, "Hearts and Minds," and Propaganda. Various techniques are used, by any set of groups, and aimed to influence a target audiences value systems, belief systems, emotions, motives, reasoning, or behavior. It is used to induce confessions or reinforce attitudes and behaviors favorable to the originators objectives. Target audiences can be governments, organizations, groups, and individuals. http://en.wikipedia.org/wiki/Psychological_Operations
10. GEO: PSY-OP India• Gujrat- 2000+ Muslims killed, DID YOU• Ayodhya- Babri Masjid destroyed by Hindus, EVER SEE?• Tamil Nadu- 6 nuns burnt alive in church,• 89 separatist movements,• Over 250 million people sleeping on footpaths,• Attack on golden temple,• Killing of Sikhs on Indian soil,• No abuses given to government officials live on TV.
11. GEO: PSY-OP International• France: – 700 cars were burned in one day, DID YOU EVER SEE?• Israel: – Killing of Israelis- never shown,• USA: – Most happening crimes along with 30,000 rape cases. But you do see MUKHTARAN MAEE on GEO, CNN, BCC etc.
12. GEO: PSY-OP Pakistan• 50 % Indian dramas,• 25 % dramas with mix cast (Indian and Pakistani),• Indian films (banned in Pakistan) broadcasted by Geo,• No good news like construction of motorway directing to Islamabad, Peshawar and Lahore. Instead, it showed dead people in Karachi.
13. GEO: PSY-OP Pakistan• Focus On Negative News – Showing Dead Bodies And Other Humiliations,• Contradict PEMRA: – "No Programme Shall Be Aired Which Is Against Basic Cultural Values, Morality And Good Manners" (PEMRA Programme Rule 1(i)). – "Contains Anything Which Tends To Glorify Crime Or Criminals" (PEMRA Programme Rule 1(n)). Http://Www.Pemra.Gov.Pk/Pemra/Images/Docs/Legislation/Code_of_conduct.Pdf• Geo Suppresses And Ignores Good News: – $5.1 Billion Of Oil Refinery In Pakistan, – $28 Billion Emar International Island Development, – Xxx People Survived From Dengue Or Any Other Prevailing Disease, – Bullet Train Approval By Pakistan. • http://tinyurl.com/44rxltq
14. GEO: AIM• Power of Pakistan : Powerful Media Hands (Jews). – http://tinyurl.com/y9h3tg5 (Six Jewish Companies Own 96% of the World's Media)• To Implement And Defend Jews And Indian Policies In Pakistan: – Israeli Ads on e Geo's website . – Aman Ki Asha.
15. GEO: AIM• To Destroy Economy Of Pakistan: – False Reports Of Stock Market Crash, – Destructive Videos of bomb blasts, – Live Coverage Of Criminals And Police Encounters.• To Promote Only Indian Culture. – Dramas Adopted From Indians- Tere Pehlu Mein. – Indian Songs And Soaps Broadcasted- Jassi Jaisi Koi Nahi Etc. – Aag Tv- Bollywood Interviews, News And Songs
16. • Propaganda: Swat flogging fake video made by Geo team in Peshawar for 5 lacs,• Shoaib Malik's wedding to hide Issue of Aafia Saddiqi,• Richest Group in 5-6 years time- Geo: funded by Indian and Jewish lobby,• Hatred for Pakistan: – "Aalia Ne Pakistan Chor diya" – "Ghamdi" – Sensitive Islamic Issues
17. GEO IS JEW• Signs of Israel lobby. – Geo TV uses this as a current news update "Geo Aankh" – David star in talk shows – Claims every suicide attackers as "TALIBAN"
18. GEO: Controversies For Nation• Mumbai Attacks: Another Geo Propaganda. – Geo Anchors Gave False Reports, – Ajmal Kasab's Case: • Faridkot Village, Where There Is No Ajmal Qasab! • Ajmal Itself Disclosed himself To The Mumbai Police. – Http://Www.Youtube.Com/Watch?V=nyiqvmlvhhu
19. GEO: Aman Ki Aasha• Special Program Running For Indian Lobby: – Showing Off Peace And Harmony Amongst Two Nations But, What Indians Say About It? • http://www.youtube.com/watch?v=B6zVMq3VFvw&feature=relat ed
20. GEO: Solutions• Educational Programs To Enhance Research Projects. – Educational System And Researches Would Shoot Up.• Good Image – Tourist Industry: Popularity – Footages Of Tourism Points: • Swat • Naran Kaghan • Chitral • Uper Dil Etc.
21. GEO: Conclusion• Don't get impresses from geo TV anchors, talk shows, articles, report and columns. All of them are paid heavily to propagate: – Hamid Mir's Case (the enemy within) • http://www.youtube.com/watch?v=RVsAEzEI3sQ• Government can't ever ban Geo, because power is in hands of true ruler: JEWS .
22. NOT ONLY GEO!Israel lobby has funded the whole media
23. Think before its too late!